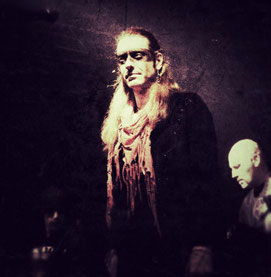 Aldo Garrone
Born: August 9, 1675 
Instrument & Gear:Voice
Aldo Garrone was born in Turin, August 9, 1675 (it's not an error, but a provocation) under the sign of Leon, doesn't consider the music part of his life up to the shock through the Genesis, the first band he dedicates a tribute coming part of a formation existing in the far 1997 (Broadway Melody), spend three years because Aldo discovers his true vocation: Led Zeppelin, the band thanks he owes his great devotion to the music, the rebirth album Physical Graffiti, thus becomes part of Candystroke, Led Zepp lifestyle Band, which works closely since 2000, until get to perform closer to Zeppelin's home in distant Birmingham.
Meanwhile pursuing other projects, always geared to cover working with different characters, Marco Minnemann,

John Macaluso and Clive Bunker are three of many  known along the way.
Until you reach the turning point in wanting to start composing his own music and meeting with the eccentric Beppe Geracitano that will forever change the limited vision given by the cover band to the extroverted mentality of Al.

Singers reference: Robert Plant, Peter Gabriel, Bon Scott, Steven Tyler, David Coverdale, Ronnie James Dio, Elvis Presley, Ray Charles, Michael Jackson, Steve Perry, Mina.
Vocal Coach Mr. Piero Leporale
Aldo Garrone nasce a Torino il 9 Agosto 1675 (non è un errore, ma una provocazione) sotto il segno del Leone, non considera la musica parte della sua vita fino a raggiungere la folgorazione tramite i Genesis, prima band alla quale dedica un tributo entrando a far parte di una formazione già esistente nel lontano 1997 (Broadway Melody), passano tre anni perchè Aldo scopra la sua reale vocazione: i Led Zeppelin, band grazie alla quale deve la sua grande abnegazione alla musica, Physical Graffiti l'album della rinascita, entra così a far parte dei Candystroke, led Zepp lifestyle Band con la quale collabora attivamente dal 2000, fino ad arrivare ad esibirsi alle porte di casa Zeppelin nella lontana Birmingham.
Nel frattempo porta avanti altri progetti, sempre improntati alle cover collaborando con diversi personaggi, di cui Marco Minnemann e Clive Bunker sono solo due dei tanti conosciuti lungo il cammino. Fino a giungere alla svolta nel voler iniziare a comporre musica propria ed all'incontro con l'eccentrico Beppe Geracitano che cambierà per sempre la visione limitante data dalle cover alla mentalità estroversa di Aldo