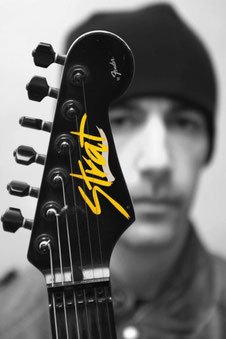 Beppe Geracitano
Born: June 28, 1977
Instrument:: Guitars
Gear: Guitars: Fender Hm Strat 1989, Gibson SG Standard, Fender American Vintage '62, Shadow
        Pick-Up: Di Marzio

        Amps: Laney GH50L, Cabinet Marshall 1960AV Speaker: Celestion Vintage 30
        Effects: Okko Dominator , MX-R Zakk Wilde Overdrive, Ibanez DL5 Digital Delay, Boss Super Chorus CH-1, TC Electronic PolyTune
        Software: PreSonus Studio One , Ardour, Cubase,

He began playing guitar at age 17, now focuses more on the study of the big shredder and after a year, to figure out what direction to follow, take some guitar lessons from a teacher named Marco Roagna.

From there he began an intensive study on technique, improvisation and their own musical openings. In his career he dedicated to the composition, played in tribute bands, recorded studio sessions, and taught guitar, but his more important experiences were those in which the music was created.
Band: Venus Cry, Evil Flower, Redlynx, Eleven Prime , The Rock Alchemist.
Guitarist reference: Criss Oliva, Randy Rhoads, Zakk Wilde, Tony Iommi, Paul Gilbert, Gary Moore, Yngwie Malmsteen, Brian May, Jason Becker, Marty Friedman, George Lynch, Steve Vai, Joe Satriani, Al di Meola, BB King, Buddy Guy, Mike Stern. 
Comincia a suonare la chitarra a 17 anni , si concentra subito sullo studio dei piu' grandi shredder e dopo un anno ,per capire che direzione seguire , prende qualche lezione di chitarra da un insegnante di nome Marco Roagna .
Da li' in poi comincia un intenso studio sulla tecnica , sull'improvvisazione e sulle proprie aperture musicali.Nel suo percorso fino ad oggi si e' dedicato alla composizione ha suonato in tribute band , ha registrato sessioni in studio e insegnato chitarra ,ma le sue esperienze piu' importanti sono state quelle in cui la musica veniva creata.
Band principali: Venus Cry , Evil Flower ,Redlynx , Eleven Prime, The Rock Alchemist.