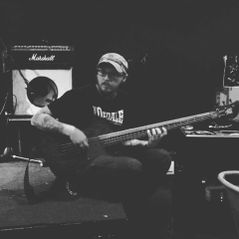 Raoul Ronco
Born: April 3, 1976
Instrument: Bass
Gear: Sic Instrument Basses, SWR Redhead™ Bass Combo ampli, Electro Harmonix and EBS Pedals, Rotosound Strings.
Raoul began playing bass at age 16, the first musical experiences were characterized by the punk rock up to the extreme metal with Chrysalis  and the realization of an Ep in 1996.
Then he met Beppe Geracitano and Max Gordiani led to the birth the Band Evil Flower  with the recording of the CD "Eternal Stare".
After several collaborations, particularly with Bribe(2008),  in 2009 began to take shape the project The Rock Alchemist.

The Raoul's musical influences include artists such as Steve Di Giorgio, Geddy Lee, Tony Levin, and bands like Tool, Rush, Mastodon and many others.
Raoul ha iniziato a suonare il basso all'età di 16 anni, le prime esperienze musicali sono state caratterizzate dal punk rock fino ad arrivare al metal estremo con i Chrysalis e la realizzazione di un Ep nel 1996.
Poi l'incontro con Beppe Geracitano e Max Gordiani portò alla nascita degli Evil Flower con la registrazione del CD "Eternal Stare".
Dopo varie collaborazioni, in particolare con i Bribe(2006),  nel 2009 inizia a prendere forma il progetto The Rock Alchemist.
Le influenze musicali di Raoul includono artisti come Steve Di Giorgio, Geddy Lee, Tony Levin, e Band come Tool, Rush, Mastodon e molti altri.